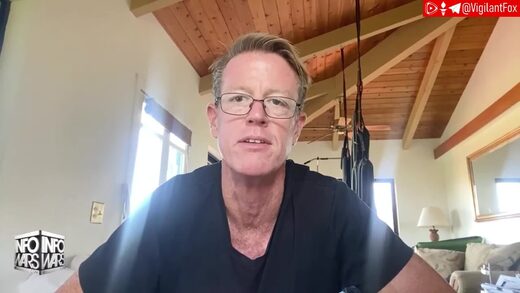 In this video portfolio manager Edward Dowd uses the CDC's own data to show that excess mortalities are occurring in the 25- to 44-year-old age group, to the tune of an 84% increase. The acceleration in deaths correlates with the mandates and boosters of the COVID-19 shots in the fall, he points out.
The news is "shocking," Dowd says. "It's the worst excess mortality, I think, in history. Basically, the millennials experienced a Vietnam War in the second half of 2021."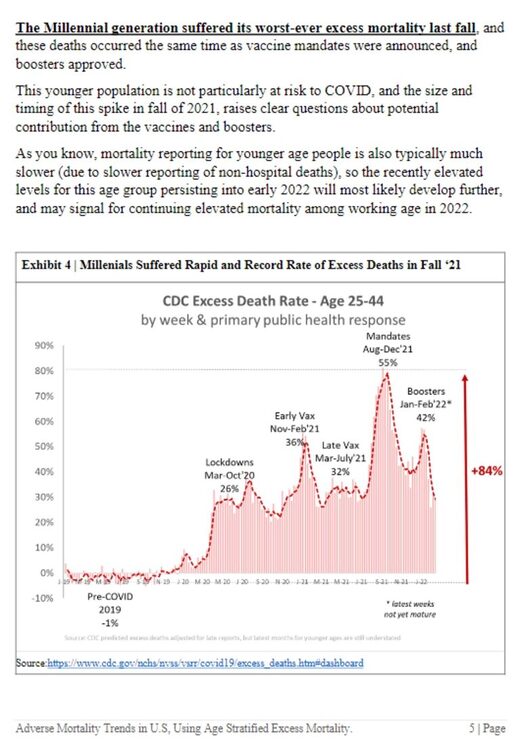 Comment:
More from Vegastriumph:
Dowd became suspicious of COVID-19 shots early on, as he reviewed data on side effects from the Vaccine Adverse Event Reporting System (VAERS). "These jabs kill people and they maim people. That's my personal belief, and I think I'm 100% correct," he says.

Dowd has been analyzing data about mortality rates before and after COVID-19 shots became widespread, and found that death rates worsened in 2021 — after the shots became prevalent — compared to 2020, particularly among non-COVID-related deaths among young people.

For instance, Scott Davison, the CEO of Indiana-based insurance company OneAmerica, reported the death rate for 18- to 64-year-olds has risen 40% compared to before the pandemic.

Further, insurance companies citing higher mortality rates include Hartford Insurance Group, which announced mortality increased 32% from 2019 and 20% from 2020 prior to the shots. Lincoln National also stated death claims have increased 13.7% year over year and 54% in quarter 4 compared to 2019. Dowd tweeted:

Randy Frietag CFO just explained that in 2021 the share of young people dying from covid doubled in the back half of the year & that's driven the result for Lincoln & its peers. He cited 40% in 3Q and 35% in 4Q were below the age of 65 … Mandates are killing folks … This shouldn't be happening with miracle vaccines in a working age population period and a mild Omicron.

Further, Dowd pointed out "a spike in mortality among younger, working-age individuals coincided with vaccine mandates. The spike in younger deaths peaked in Q3 2021 when COVID deaths were extremely low (but rising into the end of September)."

Dowd also reported data from public funeral home company Carriage Services, which announced a 28% increase in September 2021 compared to September 2020, while August had a 13% increase. He tweeted:

Business has been quite good since the introduction of the vaccines & the stock was up 106% in 2021. Curious no? Guys this is shocking as 89% of Funeral homes are private in US. We are seeing the tip of the iceberg.

___
We have no tolerance for comments containing violence, racism, profanity, vulgarity, doxing, or discourteous behavior. Thank you for partnering with us to maintain fruitful conversation.